Teddies and Soft Toys
Teddys und Stofftiere
At the end of the 19th century there were all kinds of stuffed toys in great variety available. Here we are of course talking about toy animals. They were dearly loved playfellows and they have comforted and listened patiently to everything they were told. Especially popular was the Teddy bear. In 1900 most soft toy animals were made of woolen felt and mohair plush (hair of a goat). Mostly their stuffing was wood wool.

Zum Ende des 19. Jahrhunderts gab es bereits eine breite Auswahl an Stofftieren zu kaufen. sie waren vielgeliebte Spielkameraden, die trösten konnten und sich geduldig alles anhörten, was ihnen erzählt wurde. Besonders beliebt war der Teddybär. Um 1900 wurden Stofftiere zumeist aus Wollfilz und Mohair-Plüsch (Ziegenhaar) hergestellt. In der Regel wurden die Tiere mit Holzwolle gestopft.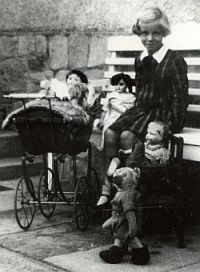 Charlotte with her dolls and her dearly loved Bing-Teddy about 1930. Read here more about the history of Charlotte's Teddy.
Charlotte mit ihren Puppen und ihrem heiß geliebten Bing-Teddy um 1930. Lesen Sie hier mehr über die Geschichte von Charlotte's Teddy.


Links (in English language):

STEIFF.com
Homepage of the internally well-known soft toy company.

D. Hentschel's Teddies
What a great collection and informative pages.

Links (in deutscher Sprache):

STEIFF.de
Homepage der weltbekannten Firma, die ihren Produkten dien berühmten Knopf ins Ohr setzt.

D. Hentschel Teddies
Was für eine schöne Sammlung und informative Seiten.