Here we collect accounts about wooden toys. We start with two toys by the Steiff company.

Hier sammeln wir Beiträge zu Holzspielzeugen. Den Beginn machen zwei Spielzeuge der Firma Steiff.
An English boy with building bricks (about second half of the 1920s).
Ein englisches Kind mit Bauklötzen (ca. zweite Hälfte um die 1920er).
An American child playing with building bricks about 1912.
Ein amerikanisches Kind mit Bauklötzen um 1912.
Children playing with a pull toy wagon.
Kinderspiel mit einem Nachzieh-Wagen.
A little English boy with a (apparently) wooden toy car.
Ein kleiner Engländer mit einem (offensichtlich) hölzernen Spielauto.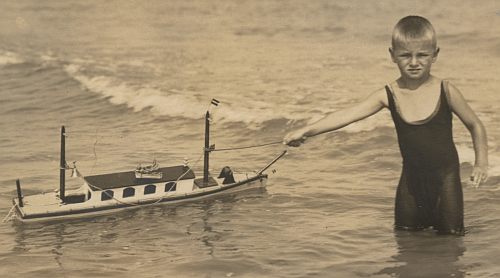 A boy with his big toy ship in the 1920s.
Ein Junge mit seinem großen Spielschiff in den 1920ern.

A tower of building bricks decorated with different pictures. Some pictures on the bricks look like fairy tale motifs. The photo was taken about 1930.
Ein Turm aus Bauklötzen um 1930. Die Klötze sind mit verschieden Bildern verziert, teilweise wohl mit Märchen-Motiven.
A wooden pull toy horse 1872.
Ein Ziehpferd aus Holz im Jahre 1872.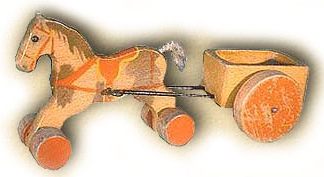 Wooden horse with cart by the Steiff company about 1934.
Karren-Gespann der Firma Steiff aus dem Jahr 1934.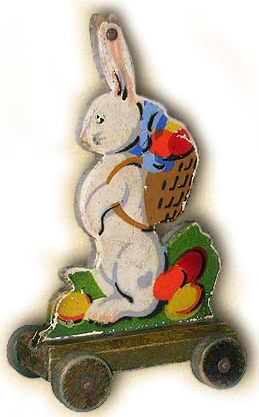 A pull toy Easter rabbit by the Steiff company produced from 1922 to 1934.
Ein Zieh-Osterhase der Firma Steiff aus der Zeit von 1922 bis 1934.