This rocking horse served as a studio prop about 1905. Both boys are posing with the same horse.
Dieses Schaukelpferd diente als Studio-Requisite um 1905. Beide Knaben posieren mit dem selben Pferd.
A little boy enjoying his rocking horse in 1919. The horse is covered with real fur.
Dieser kleine Junge spielte mit seinem Schaukelpferd im Jahre 1919. Das Pferd ist mit echtem Fell bezogen.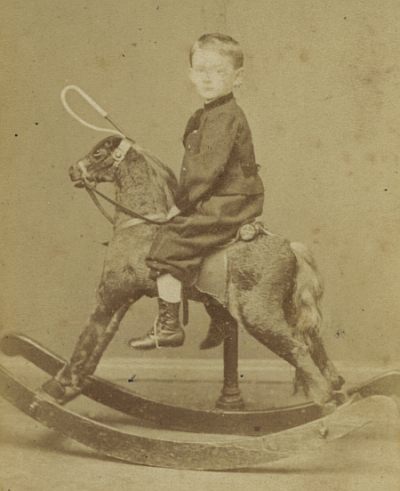 A little boy posing on a prop rocking horse covered with real fur about 1870.
Dieser kleine Knabe posiert auf einem mit echtem Fell bezogenen Schaukelpferd um 1870. Zusätzlichen Halt erhält das Kind durch die Nackenstütze, die im Hintergrund sichtbar ist.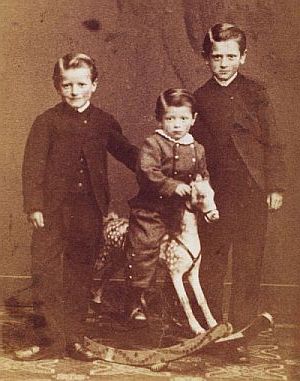 Three boys in a photo studio, about 1870ies. The rocking horse was just one of the popular props used for children's pictures.
Drei Jungs in einem Fotostudio, ca. 1870er. Das Schaukelpferd war eine beliebte Requisite für Kinderaufnahmen.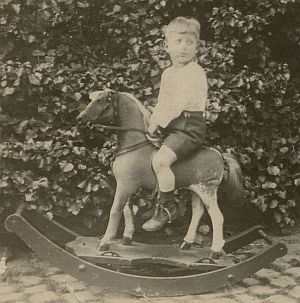 This little boy enjoyed his rocking horse about 1915. The horse can also be a horse on wheels. Note the board with the wheels where the horse is mounted on. It could be taken out of the rocker part.
Dieser kleine Junge spielte mit seinem Schaukelpferd ca. um 1915. Das Schaukelpferd konnte auch als Pferd auf Rädern genutzt werden. Das Pferd ist auf einer Platte mit Rädern montiert, die aus dem Schaukel-Teil heraus genommen werden konnte.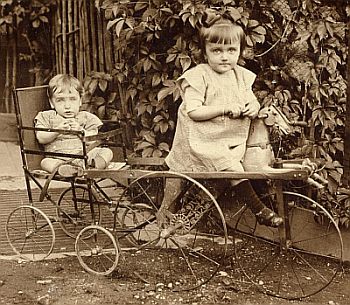 Not a rocking horse but an amazing horse tricycle with trailer about 1900.
Kein Schaukelpferd, aber ein erstaunliches Pferde-Dreirad mit Anhänger um 1900.
Another amazing horse tricycle.
Noch ein erstaunliches Pferde-Dreirad.