A rarity is this Art Nouveau doll's store of the Album Schönherr company made about 1910. Furnishings and wall paper are complete and original. The sales lady has a wax head and was produced about 1880/90. The pram with baby dates back to the Biedermeier period. Measures: 73 cm wide, 30 cm deep, 34 cm high.
Eine Rarität stellt der Jugendstil-Kaufladen der Firma Albin Schönherr, produziert um 1910 in trapezförmigen Gehäuse, dar. Die Ladenmöbel und die Tapete sind komplett und original erhalten. Die Verkaufsartikel, größtenteils alte Blechdosen und Flaschen, komplettieren den Laden. Sehr selten ist auch die Verkäuferin, mit einem Wachskopf und Originalbekleidung, Entstehungszeit um 1880/90 und der Kinderwagen in schöner Erhaltung aus der Biedermeierzeit. Breite: 73 cm, Höhe 34 cm, Tiefe 30 cm.
Close-up of some wares.
Einige Waren im Detail.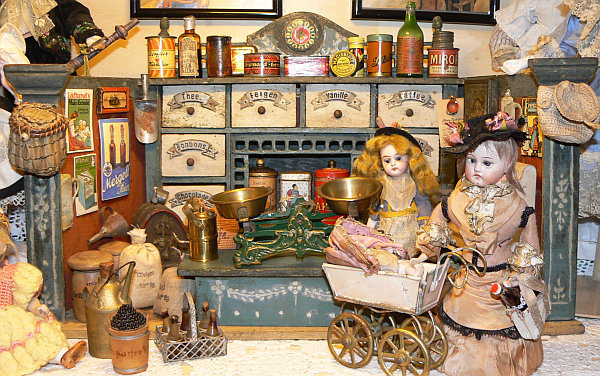 General store about 1900/10, produced by the company Moritz Gottschalk, Marienberg/Erzgebirge, Germany. The shop's furnishing, wares, saleslady and customer with pram are also from this period. Measures: 46 cm wide, 20 cm deep, 22 cm high.
Gemischtwarenladen um 1900/10, Hersteller Firma Moritz Gottschalk aus Marienberg/Erzgebirge. Die Ladeneinrichtung samt Ware sowie Verkäuferin und Kundin mit Kinderwagen ist ebenfalls diesem Zeitraum zuzuordnen. Maße: 46 cm breit, 20 cm tief, 22 cm hoch.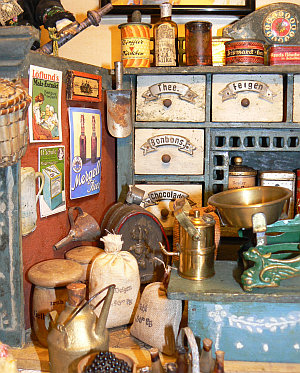 Close-up of some wares.
Einige Waren im Detail.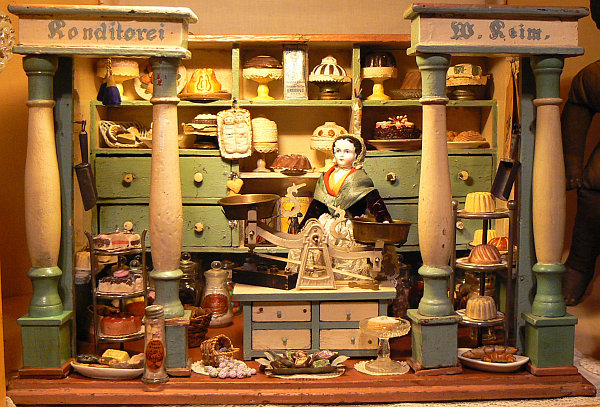 Pastry shop about 1820, produced by the Nuremberg company Georg Hieronimus Bestelmeier. The Biedermeier-saleslady offers a wide variety of fancy cakes, pies and sweets. The two cake posts were manufactured by the Märklin company. Measures: 48 cm wide, 30 cm deep, 32 cm high.
Konditorei ca. 1820 produziert von der Nürnberger Firma Georg Hieroniums Bestelmeier. Die Biedermeier-Verkäuferin hält Torten, Kuchen und Süßwaren in reicher Auswahl feil. Bei den beiden Tortenständern im Vordergrund handelt es sich um Produkte der Firma Märklin. Maße: 48 cm breit, 30 cm tief, 32 cm hoch.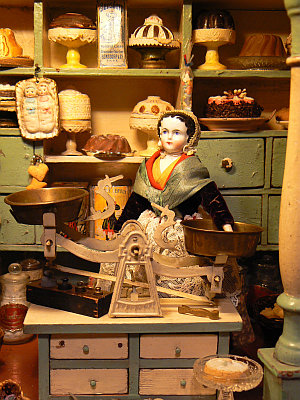 Close-up of the saleslady.
Die Verkäuferin im Detail.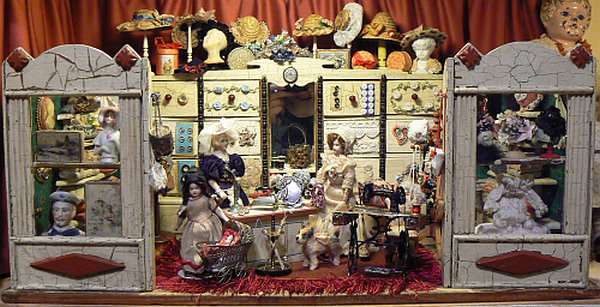 Fashion shop about 1910/20. Shop and dolls in original state. The setting of the shop is contemporary, some parts are younger. Measures: 63 cm wide, 330 cm deep, 27 cm high.
Modeladen, datiert um 1910/20. Gehäuse und Puppen in ursprünglichem Erhaltungszustand. Die Ausstattung ist zeitgemäß und teilweise auch jünger. Maße: 63 cm breit, 33 cm tief, 27 cm hoch.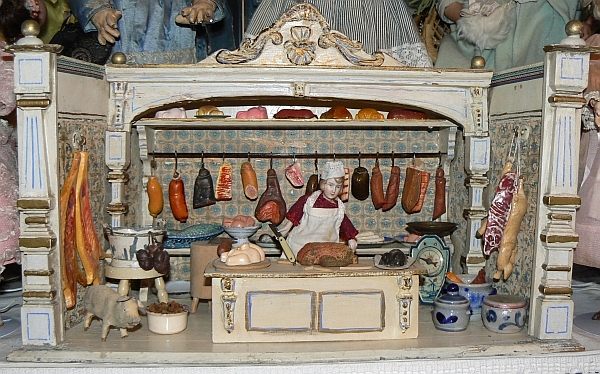 This is a butcher's shop from the Gottschalk company. It was produced about 1870-1880. The housing, the wall papers and the chattels are original. The meat and sausages are newer but old, too. The plate scale (correct term?) in the background was made about 1900 and is decorated with a Holland motive (rare). The saleslady has a bisque head and was produced about 1920. The butcher's shop measures: 49 cm wide, 24 cm deep, 32 cm high.
Dies ist eine Metzgerei der Firma Gottschalk. Sie wurde um 1870-80 hergestellt. Das Gehäuse, die Tapeten und das Mobiliar sind original. Die Fleisch und Wurstwaren wurden später hergestellt, sind aber ebenfalls alt. Die Tellerwage im Hintergrund wurde um 1900 hergestellt und ist mit einem Holland-Motiv (selten) verziert. Die Verkäuferin hat einen Biskuit-Porzellankopf und wurde um 1920 hergestellt. Die Metzgerei ist 49 cm breit, 24 cm tief und 32 cm hoch.
A close-up of the sales lady.
Die Verkäuferin im Detail.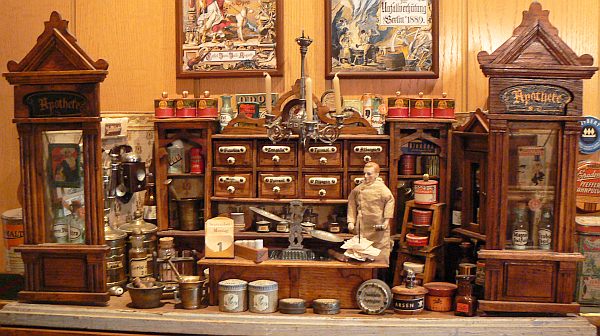 A pharmacy about 1880. The furniture and inventory date from the same time. Notable are the drawers with porcelain labels lettered with Latin pharmaceutical names. The pharmacist doll in original condition was produced about 1910-20. Measures: 26 cm wide, 24 cm deep, 39 cm high.
Die Apotheke ist im Gründerzeit-Stil gehalten (ca. 1880). Die Möbel und das Inventar sind diesem Zeitraum zuzuordnen. Beachtenswert sind u.a. die Schubladen mit Porzellanschildchen, welche mit lateinischen Medikamentennamen versehen sind. Der Apotheker, ebenfalls in Originalerhaltung, wurde um 1910/20 produziert. Maße: Breite 71 cm, Tiefe 26 cm, Höhe 39 cm.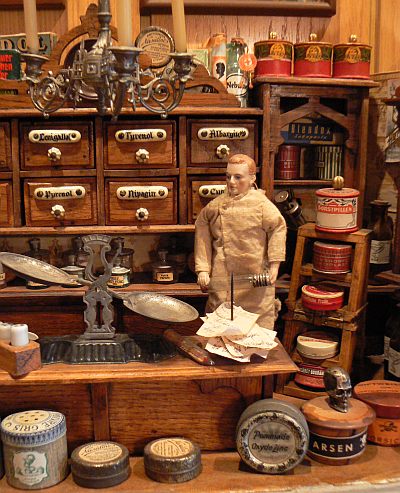 A close-up of the pharmacy.
Die Apotheke im Detail.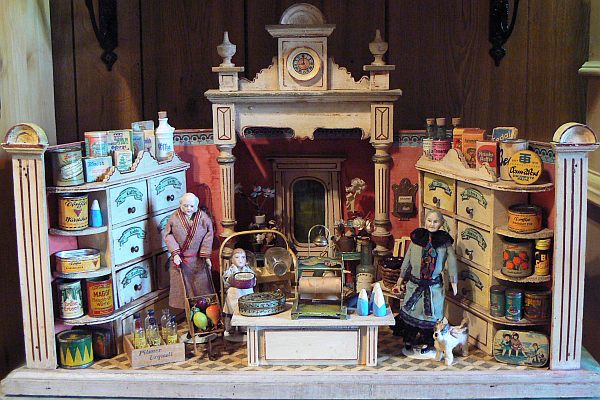 This shop was produced by the Gottschalk company about 1880. The body is lavishly equipped with ornated posts, bay and door. The goods and other furnishings were made between 1910-1930. The merchant doll and the older customer with original clothing are from the same period. Measures: 65 cm wide, 37 cm deep, 43 cm high.
Ein Kaufladen der Fa. Gottschalk um 1880 in Originalerhaltung. Aufwändig gearbeitetes Gehäuse mit Säulen, Erker und Tür im Hintergrund. Die Waren und sonstigen Einrichtungsgegenstände wurden etwa in der Zeit von 1910-1930 hergestellt. Der Kaufmann und die ältere Kundin, noch mit ihrer ursprünglichen Kleidung versehen, sind ebenfalls diesem Zeitrahmen zuzuordnen. Maße: Breite 65 cm, Tiefe 37 cm, Höhe 43 cm.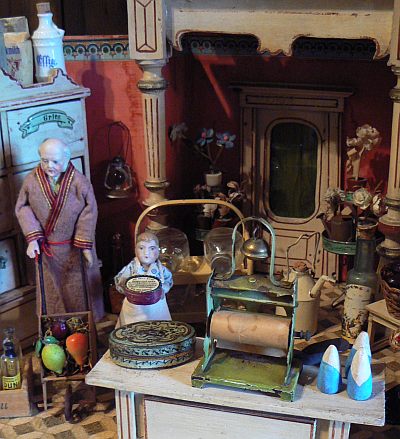 A close-up of the shop.
Der Laden im Detail.
This shop for devotional objects was produced by the Moritz Gottschalk company about 1880/90. The goods and other furnishings are old, some are difficult to date. The nun doll has a bique had and original clothing. She was produced about 1900/10. Measures: 55 cm wide, 27 cm deep, 35 cm high.
Ein Devotionalienladen der Firma Moritz Gottschalk um 1880/90. Dieser Laden ist sehr selten und teilweise restauriert. Die Einrichtungsgegenstände sind alt, teilweise sind sie nicht genau zuzuordnen. Die Nonne hat einen Biskuit-Porzellan-Kopf und trägt originale Kleidung. Sie wurde um 1900/10 hergestellt. Maße: Breite 55 cm, Tiefe 27 cm, Höhe 35 cm.
A close-up of the nun doll.
Die Nonne im Detail.